What the menu will be provided for the new year 2012 if you not going to anywhere just home with family, whether there was food ideas that have been recorded or already have a special dish to your home for your special Day of your event.

If you are on vacation during the new year and planning to not go anywhere, just hanging out with family at home is better if we prepare a surprise to some dishes for the new year is provided as a gift your family with meal that we have prepared and made ​​with special, of course will make them feel happy because maybe it is an attractive prize their stomachs and tongue feel pampered when they become the food we serve has a delicious flavor.

Try it with this one recipe, delicious chocolate cake will make your holiday gathering with family and become sweeter. Many varieties and ways that we can have like a chocolate with raspberry cake, white chocolate cake filling, dense chocolate cake, milk chocolate cake, white chocolate cheesecake and so on, according to the tastes and the way you serve with chocolate cheesecake recipe or a different ingredient. We can easily do at home with your design chocolate cake in accordance with your respective styles.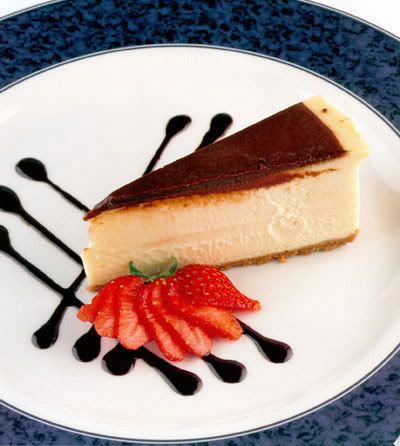 Chocolate Cheesecake
Ingredients :
1 1/4 cups graham cracker crumbs
2 tablespoons sugar
3 tablespoons butter or margarine melted
2 pounds cream cheese
1 cup sugar
8 ounces sour cream
1/4 cup cocoa
2 eggs
1 cup flour
3/4 cup heavy whipping cream
Method
In a 5 quart mixing bowl place 2 pounds of cream cheese and 1 cup granulated sugar and mix on low speed until cream cheese is softened and smooth, place in bowl 8 ounces sour cream and continue mixing until well blended, at this time add 2 eggs, mix for 2 minutes then add 1 cup flour, 1/4 cup cocoa, and 3/4 cup heavy whipping cream, mix on second speed until smooth and creamy.
At this time your cheesecake mixture should be fluffy like ice cream as it comes out of the ice cream machine. Prepare your 10 inch x 2 inches spring form pan, in a large bowl place your graham cracker crumbs and 2 tablespoons sugar, and your melted butter or margarine, then with a wire whisk, whisk them together until well combined, brush onto the sides of your spring form pan a little softened butter so the crumbs have something to hold to, place the crumbs on the sides and bottom of the pan. Now you add slowly to the pan your cheesecake mix as not to disturb the crumbs too much, now you should have a full pan.
Preheat your oven to 275 degrease and not more, when your oven is hot place the cake in it and bake for 55 minutes then shut off the oven and let it in there for 3 hours, at the end of this time you should have the most beautiful cheesecake you ever seen, let the cake on the table for 1 1/2 hours then place it in the refrigerator for about 2-3 hours. Now remove it from the pan and enjoy. You can put a coconut pecan topping on it if you like.
---
Rate :

4.5

Vote :

5

People